EXTERNAL ECONOMY
GLOBAL SLOWDOWN WARNING
Shiran Fernando examines how a worldwide economic slowdown would impact Sri Lanka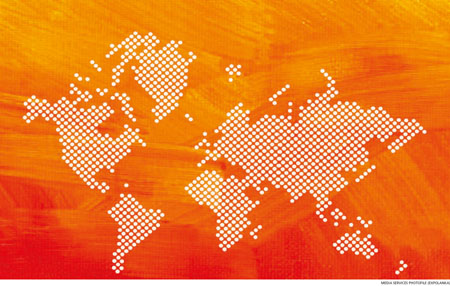 The third quarter of 2019 witnessed a continuous decline of Sri Lanka's exports compared to the previous year. In contrast, exports recorded year on year growth in every month from March 2017 to June 2019.
This decline in the period from July to September last year is of some concern as it could signal the beginning of a prolonged slowdown in overall exports. Apparel exports for example, which had recorded growth for much of the quarter under review, contracted in September.
GLOBAL ECONOMY The world economy is in uncertain territory with the outlook turning decidedly pessimistic.
In mid-November, the OECD warned that risks to the global economy have increased and in fact, prospects had deteriorated. In addition, while the Organization for Economic Cooperation and Development isn't forecasting a global recession this year, sentiment is negative. The impact of the trade war between the US and China is a major reason for this.
A downturn is evident in China with growth in its industrial economy falling substantially in October following a dip to a 170 year low in August. China's exports also provide evidence of a slowdown, declining by 0.9 percent in October. Meanwhile, imports fell by 6.4 percent, which represents the ninth consecutive month in which growth slowed down.
Moreover, world merchandise trade is expected to have remained below par in the fourth quarter of 2019, according to the WTO's Goods Trade Barometer – and the dim outlook is expected to persist.

APPAREL EXPORTS In September last year, Sri Lanka's apparel exports declined, reversing a continuous trend of growth witnessed since May 2018. This could be viewed as an early indicator that Sri Lanka is beginning to feel the pinch of the US-China trade war.
The impact appears to stem from a slowdown in demand as a result of the trade dispute in addition to other demand driven concerns in the EU. The general sentiment among local apparel manufacturers is that despite there being early signs of a downturn when it comes to orders from Western markets, Sri Lanka is attracting new business from countries such as China and Vietnam as apparel businesses begin to realign their supply chains.
However, there's concern that the impact of a slowdown in apparel exports vis-à-vis its contribution to aggregate exports could be substantial – especially if the order book for the coming year is not as full as in the last quarter of 2019.
LOCAL POLICY The Central Bank of Sri Lanka has acknowledged that the global economic outlook is bleak, pointing out that "mounting geopolitical and trade tensions have led to a significant deterioration of global growth and its outlook."
This has meant an upside for oil importing nations such as Sri Lanka amid low world demand pressures, implying that the price of black gold is confined to between US$ 55 and 70 dollars a barrel.
In addition, the Central Bank notes that this has created space for advanced nations to ease interest rates and stimulate their economies.
This is evident on the subcontinent as well where the Reserve Bank of India (RBI) has looked to stimulate domestic demand by reducing interest rates. The growth downturn in India has prompted its government to take measures to relax tax rates and encourage growth by reducing corporate taxes.
We're witnessing a similar trend in Sri Lanka as well with the newly elected president looking to get growth back on track by reducing taxes to increase disposable incomes, which in turn is expected to lead to higher consumption levels and economic growth.
This is not a sustainable policy, as has been illustrated by the boom and bust cycles of 2011 and 2015. However, given the global outlook, there is room for such loosening in the short term.
GROWTH FOCUS Sri Lanka's growth story has to be led by exports if it is intended to be sustainable and above six percent over a considerable period of time. It cannot wither based on the government of the day. This is because export links and global supply chains are established over the course of several years if not decades.
In this regard, Sri Lanka is already late to the game. Export volatility and uncertainty in international markets also highlight the need to diversify the country's export markets.
Diversification is also a requirement in relation to products, which must now go beyond goods and shift more towards services, IT and tourism to name but a few. These are inherent strengths in the economy that need to be leveraged further to mitigate the impact of external shocks.