AMARYLLIS
AMARYLLIS BY BODY DOC FOR YOUR PERFECT EVENT HAVEN IN MALABE
Finding a space that's large enough to have that perfect gathering with a beautiful scenic view is not an easy task for those living in the suburbs of Sri Lanka. Amaryllis by Body Doc, situated in the heart of Malabe, is now facilitating amazing spaces not only to have birthday parties, private engagements, corporate events, but also that perfect  wedding with memories to last a life time. The building premises boast of modern architectural vibes with elegant spaces and some wonderful views of the suburbs of Colombo.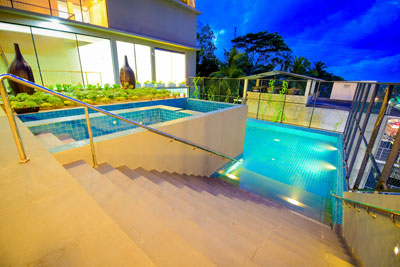 Garden Aqua at Amaryllis by Body Doc, as the name suggests, is adjoining a water body which is the Body Doc swimming pool. The pool deck space is ideal for pool parties where you can have food and drinks inside and all the fun outside, comfortably accommodating 100pax in a cute little spot overlooking the swimming pool and Malabe town.
The Wine Cellar, which can easily accommodate up to 250 at any given time, has a vintage ambience with Wine bottle chandeliers and warm lights for night time events giving a romantic feeling which is exactly what you will be looking for a wedding or a ceremonial engagement party. It also has a semi rooftop attached to it so you can use it for an outdoor event too where you can see a tree coming out from the middle of the building.
The Rooftop  at Amaryllis by Body Doc, has the highest point in the entire building giving it one of a kind views with lush greenery and the hustle & bustle of the city. A great venue if you looking for a setting that's both dreamy and aerial, making you feel like you're on top of the world with a the people you love. The ideal venue for an outdoor wedding or, if you're not planning to get married, a BBQ Corporate party or just a fancy outdoor party.
A variety in the types of events that can be held at this one of a kind location is endless. What's more the location has parking space for over 50 vehicles in one go making it also the largest space provider in the immediate suburbs of Colombo. To book the ideal space that meets your unique requirements contact Amaryllis by Body Doc on 0117250444 or follow them on facebook https://www.facebook.com/Amaryllis-by-BodyDoc or instagram @amaryllis_events.