ADB GRANT FOR DISASTER RELIEF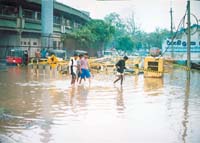 The Asian Development Bank (ADB) provided a US$ 2 million grant to finance relief efforts targeting victims of the recent floods and landslides in the country.
An agreement in this regard was signed at the Ministry of Finance by Dr. R. H. S. Samarathunga, Secretary to the Ministry of Finance and Mass Media, and Tadateru Hayashi, Senior Country Economists/Officer-in-Charge of the Sri Lanka Resident Mission of the ADB.
The two million dollars is being provided to the Government of Sri Lanka as a grant under the ADB's Asia Pacific Disaster Response Fund to purchase emergency relief materials and help restore community services.